---
How do we "stack up" against other brokerages? 
We are designed for full-time agents who want to be top salespeople in their communities but WITHOUT all the high monthly franchise fees. We do not have mandatory phone duty or mandatory office hours. We have a full-time office admin who is present at the office to transfer all calls. Our office admin also collects mail, emails documents to agents, deposits checks sent to the office, and is available to collect anything a client may need to drop off while our agents are busy.
Our files are stored in the cloud, and our agents are paid via direct deposit – agents never have to track down a broker to pay fees or to get paid. Our franchise has low franchise fees and offers a lot of "bang for the buck" – offering tools and tech that help agents save time, win listings, and better represent their clients at no extra cost!
Our franchise does not have a mandatory franchise percentage fee – when an agent CAPS with our company, they truly stop paying a percentage to the brokerage or franchise. We offer commission splits that start at 50/50 with free perks and leads for agents who need hands-on training, but we also offer splits as high as 100% with a monthly flat fee for our top producers. We constantly promote our agents and provide opportunities for them to network. We also offer a robust leads program to help agents easily grow their business. An agent can receive leads for $0 a month up to $900 a month, depending on their split.
We also offer an "a la carte" in-office transaction coordinator who helps our agents write offers, listings, and coordinate inspections/closings. The transaction coordinator helps our agents get from behind the desk to sell more property and do less clerical work. The agent and the company pay the TC – all fees the agent incurs are paid out of their next closing. Most of what agents need to purchase such as signs, photography, staging assistance, swag gear, etc. can be paid out of the agent's next closing, making life easier for agents.
Many agents who have transferred to NextHome Simplicity have gone from selling less than 5 transactions a year to selling 20+ transactions a year. We are transparent and care a lot about our agents and office culture. We plan to change how real estate is conducted on the MS Gulf Coast by training agents, providing a healthy fun environment for them to work in, and allowing them to keep more of their commissions.
The Future of Real Estate
Real estate is ever-changing, but in the past 5 years, the industry has drastically changed like never before.  Real estate agents are no longer the "gatekeepers" of information.  With websites like Zillow & Realtor.com, the public has all the information they need about properties at their fingertips. Oftentimes the consumer now knows as much about the property, if not more, than the agent before they make initial contact.
Statistically, upwards of 95% of buyers now find their homes online, and studies now show that people trust online reviews over personal recommendations. Today's savvy consumers have access to hundreds of reviews and abundant information about local real estate agents. They are researching like never before to find out all they can find about properties and services before ever reaching out to an agent.
Now couple that with the fact that in 2020, over 40% of home buyers were Millennials, Generation Z is now old enough to purchase homes, and the largest portion of the active real estate market is below the age of 45.  They think, shop, and communicate differently than the generations before them. The fact that who the typical real estate consumer is, has greatly changed in the past 5 years, and technology is now moving forward at an exponential pace, which has created the need for a new kind of brokerage.
James Dwiggins, the CEO, and co-founder of NextHome is a third-generation real estate entrepreneur.  With experience in both the technology and real estate industries and a keen awareness of what the real estate industry was lacking, he and his business partner Tei Baishiki envisioned NextHome, a consumer-focused brokerage that was forward-thinking, tech-savvy, and appealed to a new age of buyers and sellers.
Watch the video below to understand how NextHome is determined to help agents provide more and do more to stay relevant and justify their commission.
---
---
---
Perks Unique to NextHome Simplicity
…..
 Transaction Coordinator
Affordable ($50 – $200) and paid once you close a deal!
We have noticed that Transaction Coordinators tend to be a high turnover position when hired by a single real estate agent.  They are a blessing during the busy season, but when you can't keep them busy, they tend to find another job.  With that said, NextHome Simplicity decided to hire a licensed TC on staff.  Our TC is available to handle and coordinate our agent's transactions to do what they do best, sell!  If our agents choose to use our "In-House TC," they have the option of not touching a single piece of paper during the transaction.  Our Transaction Coordinator will handle writing offers, listings, contracts, obtaining client signatures, coordinating inspections, sending contracts to attorneys, etc.  All the agent needs to do is review.
---
---
Award-Winning Agents 
They say, "You are the sum of the 5 people you spend the most time with", so as a real estate agent, you should surround yourself with other excellent, top producing, driven agents. Many of NextHome Simplicity's agents are local and national award-winning Realtors.  Andrew Geotes, our responsible Broker, is a former state-certified appraiser, a local top-producing "round table" award winner, and a national award winner.  His sales team beat out teams in much larger states such as California and Texas to take the company's number three spot in 2017.  Andrew's wife, Brittany Geotes, is honors graduate from the University of Southern Mississippi, has won local and national awards with multiple companies, and has been featured in local magazines such as South Mississippi Living and the Gulf cover Coast Woman.
---
---
Free Agent Head-Shot 
In marketing, professionalism and consistency are key!  We have strict marketing guidelines to ensure that when the public views a website, sign, card, etc., with the NextHome Simplicity logo, they see consistent and professional-looking marketing.  With that said, we offer free professional head-shots to all of our agents to ensure quality control.  We feel that each agent not only represents and reflects the NextHome Simplicity brand but also reflects on the other NextHome Simplicity agents.
When asked about the most important trait they look for in an agent, prospective home sellers chose "professional reputation" most often.
---
---
Training & Bootcamp 
NextHome Simplicity's

3 Week Real Estate Bootcamp

where we teach you how
to use the MLS, show property, fill out offers, negotiate contracts, capture online buyers, win listings, win multiple offers, and much more.
We've noticed

there is a lack of training in our local industry

, and whether you are a new agent or a seasoned veteran of the industry, there is always something new to learn.  We offer multiple forms of training, including NextHome videos by corporate staff members, a one-on-one mentor program for new agents, and classroom training.  NextHome Simplicity offers a large, comfortable classroom where we hold regular classes on topics relevant to our agents.  We discuss marketing, trends, negotiating, tech, and whatever else may be applicable to our industry or local market.
We have

in-class training, a video training channel, and NextHome corporate training.
---
---
Direct Deposits 
Who has time to chase down a broker to pay a brokerage fee or to get paid? Never worry about tracking down a paper check from a broker again!  We pay agents via ACH bank deposits. We are 100% paperless, you never need to drop off a paper file or check and our system will track all your sold property addresses, commissions, paid fees, etc. This is just one more tool that will help simplify your life!
---
---
Free Prizes & Contests 
Real estate agents tend to be competitive by nature, so we have designed multiple contests to spark creativity, camaraderie, fun, and a tad bit of competitiveness between our agents. Win team dinners, gadgets, and points all year long – the grand prize winner receives a billboard or trip to NextHome Conference.
---
---
Sound Resistant Video Room and Phonebooth
Video is not just "trending"; it's the future.  Facebook stated that its platform would be 100% video-based within the next 5 years.  We also know that social media pages and websites that offer video content get seen more and ranked higher by Google, Facebook, etc.  We developed a 1-3 person sound-resistant video room with professional lighting and multiple mechanical options to help Simplicity agents shoot video.
---
---
Free Automated Agent Email Signature
Again, in marketing, consistency and professionalism are key!  We offer all of our agents a free automated professional-looking email signature.
---
---
Free Social Media Marketing
We believe in investing our resources and time into our agents.  When our agents do something fantastic such as: win a contest, close a deal, get an awesome review, or get a property under contract quickly, we want the world to know about it!  We POST – POST – POST about our agents to boost their credibility, visibility and increase their overall recognition in the marketplace.
The average American Facebook user clicks on eight ads per month, 10 ads a month for women. Facebook Live watch times have, on average, quadrupled in the last 18 months.
Deborah Sharp and other top-producing NextHome Simplicity agents were able to take advantage of our expansive 2021 social media marketing plan negotiated with Gulf Coast Woman's Magazine and My Coast Homes. NextHome Simplicity regularly promotes its agents in many ways.
---
---
Discounted Real Estate Photography and Matterport 3D Virtual Tours 
Andrew and Brittany Geotes own UZZI Media and offer discounted real estate photography to NextHome Simplicity agents.  UZZI Media offers all the latest real estate photography tools such as Matterport 3D virtual tours, drones, and more.  See some of UZZI's work on Facebook. Click Here to Virtually Walk Through 334 St Charles
73% of homeowners say they are more likely to list with a Realtor who uses video to sell property. Recent sellers reported only 10% of their agents effectively used video to market their property.
---
---
Payment Options with Local Staging Companies
NextHome Simplicity has negotiated a great deal with a local staging company to assist our sellers with not only staging vacant homes but also helping sellers organize and declutter primary or secondary homes.
---
---
Mentor Training Program
Here at NextHome Simplicity, we want nothing but the best agents representing our brand and our other NextHome agents.  We're only hiring committed, driven real estate agents.  If an agent is not experienced, we offer a 3 week Real Estate Bootcamp & one on one coaching calls to teach contracts, negotiations, NextHome technology and more.
---
---
Modern and Luxurious Office Space
Our office has both simple modern lines and luxurious mixed media materials/furnishings.  It offers multiple, unique features that cater to the modern real estate agent and help increase productivity.  As mentioned before, we believe in investing in our agents, and one of the many ways we have done this is by offering an impressive office space that agents can feel comfortable and confident in.  Some of the features our office provides are a sound resistant phone booth and video room, a comfortable lounge with lap desks, a multi-purpose classroom, private and shared offices, lockers, a luxurious conference room, and much more.
---
---
Free & Rent-able Office Space or a Free Locker, and Open Sitting Area
Many modern real estate offices across the country no longer offer "private office space" and instead prefer large open spaces with multiple work areas.  Another trend that's becoming more and more popular are virtual offices with no office at all.  In fact, there is a NextHome office called "NextHome Virtual," where the broker does not have a "brick and mortar" office.  We decided for South Mississippi, a combination of all 3 types of brokerages is exactly what we needed.  We have private and shared office space, a large open floor-plan with lockers for those who do not visit the office consistently. If an agent prefers to be virtual, our cloud-based technology offers agents the ability to never step foot into the office.
---
---
Agent Splits, Leads, Fees
We offer multiple commission plans designed to help agents grow their businesses. 

Our commission plans are designed for agents who are ready to hit the ground running or who have high levels of experience and want a great split.

We have 8 different commission splits depending on the agent's experience and if they want to be on our leads program.
Agents on our 50/50 intense training program only need to sell 12 deals before progressing to a 60/40 or 70/30. We help them quickly sell 12 deals! Our agent Tara Wallance did it in 6 months!
For seasoned agents that do not need our leads, we offer a 100% plan with a monthly flat fee or an 80/20 with leads.
For teams, we offer a very attractive team plan with a CAP! The more teammates the lower the CAP per person.
Our leads come from several sources, including Zillow, Realtor.com, NextHome, and Andrew and Brittany's own personal listings.  We capture an immense amount of leads each day, which are dispersed to agents via our CRM.
Our fees are simple and affordable but depend on the program you choose. Unlike most franchises, you do not have to pay NextHome fees until you close a deal.
Call us for more information.
The average real estate agent in the United States closes 12 deals a year. Andrew & Brittany closed 93 together in 2018 as Team Geotes.
---
---
Freebies 
All agents get one free full sign set and a "welcome gift bag" full of NextHome swag.
All new agents receive an 86 page hardbound onboarding book written by Andrew and Brittany Getoes with a checklist of things you need to get done ASAP and local real estate tips and tricks.
New agents on lower splits also receive 500 free agent cards and 6 free listing photoshoots.
We try to make this decision easy for you!
---
---
 Tools and Tech Offered to All NextHome Agents
45% of brokers report that "keeping up with technology" is the biggest challenge their agents face.
---
---
DocuSign and DocuSign Transaction Room – Included 
NextHome Simplicity is a paperless office – everything is stored in the cloud!  DocuSign Transaction Room allows you to store, view, and edit your contacts and other documents from anywhere in the world.  YES, you can truly work from your phone in a beach chair in Fiji, with DocuSign Transaction Room! (Or you can hire our in-house Transaction Coordinator to handle all your paperwork for you. More information below.) 
---
---
Unique Trademark Protected Signage & Luke
The world-renowned Pentagram design company designed our signage/branding. They are the same people who created the branding for Gucci, Tiffany & Co., Apple, and more. Pentagram will only design the branding for one company per industry – in other words, they will never design for another real estate company, computer company, etc.
Our signage is eye-catching, fresh, and consumer-centric. Luke, our adorable orange french bulldog mascot, is loved by everyone and a GREAT marketing tool. He captures buyers' attention, makes for a great photo prop, and is a conversation starter when people see him on our hats, shirts, cards, etc.
Another unique trademarked feature of our signage is our bed/bath sign riders. There is complete transparency about a property with our bed/bath riders and Mobile Connect codes. Our Mobile Connect codes help consumers easily obtain more information about a property when they text an agent's unique Mobile Connect code while sitting in front of a listing. Also, these Mobile Connect codes help agents capture leads. When a consumer text an agent's code for more information, our agent receives that client's name and phone number via text – letting them know a buyer is sitting in front of their listing and inquiring for more information.
---
---
Studio Digital Marketing – Included
Capture and retain the attention of buyers with an immersive, sensory experience offered by Studeo. With Studeo, you can showcase your client's luxury residence through dynamic visuals, picture carousels, animations, and more. This is automatically created and sent to your email within minutes of listing a property. 
---
---
Agent Websites with MLS/IDX Access – Included
Each NextHome agent receives their own personalized website from NextHome Inc.  Agent websites are very similar to the website you are viewing right now but customized to the agent. Customizing a NextHome website is super simple, but NextHome Simplicity offers classes and content to help agents quickly personalize their website.
---
---
Individual Listing Websites – Included
Each time a new NextHome listing becomes active, it automatically receives its own professional website, designed and created by NextHome.  These websites display the listing, price, photos, area map, description, the agent's contact information, and more.  This is a great tool to help agents promote a listing with online re-target marketing ads, social media, etc. This website is automatically created and sent to your email within minutes of listing a property.
---
---
Branded Review Webpage – Included
Studies show that today's consumers trust reviews over personal recommendations, and in real estate, the most important ingredient in growing your business is through referrals! Having a branded, easy-to-share review webpage with photos of you and your past clients makes it easy for anyone to share your raving 5 star reviews with potential referrals. The best part is with NextHome; you can set our system to automatically ask your clients for reviews as soon as you close a deal.
---
---
Marketing Automation – Included
Below is a photo example of one of our many favorite tools.  Within seconds of listing a new property, reducing a property's price, or selling a property, NextHome sends the listing agent an email with professionally designed postcards, a branded listing website, social media posts, Studio, and flyers.  This way, the agent is not spending an exorbitant amount of their time developing their own marketing.
---
---
Design Center – Included
If an agent would like to tweak or design something totally different than what the "automated marketing email" sends them, the agent has the option to design professional looking postcards, door hangers, flyers, pamphlets, videos, etc. with NextHome's easy to use templates in the NextHome intranet's Design Center.
---
---
Automated Online Marketing Reports For Clients – Included 
When sellers do not hear from their agents, they can become anxious.  The NextHome Weekly Online Marketing Reports help sellers and agents visually see their listing online activity via email while the property is listed.  The email is sent automatically to both the agent and their client, either weekly or bi-monthly.  It displays exactly how many potential buyers have clicked on their listing from websites such as Zillow, Realtor.com, Trulia, Homes.com, etc.  Each marketing report breaks down how many clicks the property is obtaining from each sales website. It also shows a graph illustrating how well the listing is doing compared to other listings in the market and it's week over week performance.
---
---
Personalized Text Code Number – Included
Every NextHome agent receives their own personalized "text code."  These text codes can be displayed on an agent's sign, website, or business card.  The text code allows potential clients to download the agent's personalized app or find more information about an agent's listing.  Our agents do not use paper flyers – we use digital text codes.  Who wants to get out of their car in the HEAT, RAIN, or COLD to grab a wet or missing flyer out of a flyer box?  With text codes, clients have the luxury of staying in their car while obtaining all the listing information, photos, and the virtual walkthrough of the property they are sitting in front of.  When a potential client texts the listing agent's text code, the GPS recognizes their location.  It will automatically send that listing's information and the agent's contact info to the potential client.  BUT THAT'S NOT ALL; the agent will then automatically receive the potential client's contact information via text.  The text code captures the phone number of the client.
---
---
Signage & Mascot – One Free Sign Package When You Join 
NextHome signage is eye-catching, unique, and trademark protected, but the best part is our Mascot, Luke.  People constantly ask, "What is Luke for?"  Luke is for fun!  He draws additional attention to listing signs, makes a great photo prop or party favor, and everyone enjoys having him in their yard!  Click the photos below.
---
---
Personalized Client App – Included
Every NextHome agent has their very own app.  This app helps capture and retain buyers.  When working with a buyer, they tend to continue looking at properties on websites and apps such as Zillow and Trulia.  If a buyer clicks "more information" while on websites, such as Zillow, Zillow will direct that client to a random local Realtor.  The number one complaint we hear from buyers about websites such as Zillow and Trulia is that the information is inaccurate.  So, if a client is provided an agent's NextHome personalized app, the buyer can search the MLS for the most up to date information, and the only contact information on the app is the NextHome agent's contact information.  #BAM
---
---
Casan Collection – Luxury Real Estate – Discounted Online Luxury Classes
The Casan Collection is available to NextHome members who have completed a thorough training and certification course through the Institute for Luxury Home Marketing. As a Casan Certified professional, the agent will have experienced firsthand the Institute's deep understanding of the affluent clientele that makes up the top 10% of their market. Once the agent has completed the training program, they have successfully unlocked the Casan Collection visual identity and marketing suite for them and their refined clients.
Luxury clients have an innate desire for something exclusive and someone who recognizes their unique wants and needs. The Casan Collection was specially designed to meet the standards of the top 10% of the market and set a new benchmark in luxury real estate.
LUXVT
When the visual identity and marketing suite is world-class, it deserves to be seen by well… the world. Through our partnership with LUXVT, your Casan listings will be featured in prominent media outlets reaching top-tier local and international buyers. This is a global advertising package like no other, exceeding the expectations of your refined clients. The New York Times, The Wall Street Journal, Robb Report, Mansion Global, and duPont REGISTRY are just a few of the platforms where your listing will reach potential buyers.
More than global syndication, LUXVT offers a dedicated website for the home, a high-end video tour with a Google Earth aerial flyover, over 100 international ads including Juwai.com, the number one real estate website in China, social media ads, weekly activity reports, and more. Your elite clients deserve elite exposure for their homes. Casan takes their residence, and your name and expertise, across the world.
---
---
NextHome Intranet Training Videos – Included
NextHome offers training videos of every tool we offer, and the NextHome corporate staff often records videos of the classes held at the NextHome Corporate office.  You can also find videos in the NextHome Intranet on the basics of real estate, what's changing in the real estate industry, and much more.
---
---
Day One: Your Next Steps to 12 Deals in 12 Months
The Day One training program is a comprehensive 12-week course designed to launch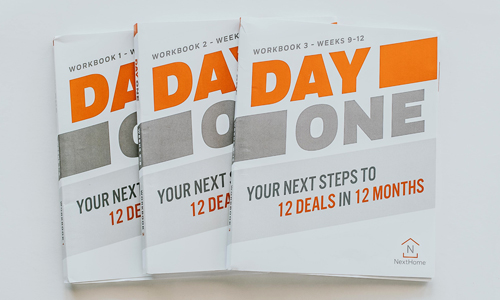 NextHome agents into production, igniting you to grow your business. Each module focuses on a specific topic – along with group activities, handouts, and exercises – before moving on to the next subject. We cover working with buyers/sellers, lead gen, accountability, time management, and everything in between.
It's about changing the mindset from "ONE DAY, I'm going to sell a lot of real estate" to "This is DAY ONE of my real estate career transformation!"
The content is broken down into three separate workbooks, and each set is available in a Student and an Instructor version. To get the maximum benefit of the program, we encourage you to go through it with peers, working in a group setting with a designated Instructor. This will allow you to evaluate, celebrate success, and share progress with the group – as well as set goals and stay accountable.
---
---
Live NextHome Webinars – Included
Our corporate staff offers free webinars on important topics on real estate, marketing, and technology.  Sign-ups for these webinars are sent via email, weeks in advance, so that agents can schedule a time to participate.
---
NextHome PodCast – Included
Yes, NextHome has its own PodCast.  Our very own and very entertaining Vice President, Imran Poladi, hosts the NextHome PodCast.
---
---
NextHome's Annual Conference, Awards Ceremony, and O21 Party 
Several of NextHome Simplicity's agents have won multiple national awards from NextHome.  Even if you are not an award winner, participation at the conference is always educational, enlightening, and a BLAST!  The conference, awards ceremony, and O21 party are all in the same week at random locations within the US.  The 2020 conference will be held in Orlando, Florida.
---
---
What Do Our Agents Say About US?
Want to know more? 
Andrew Geotes, Broker/Owner
Cell: 228.365.5506
Office: 228.357.5888
MSPropertyPro@Gmail.com
Brittany Geotes, Broker Associate / Owner
Cell: 228.263.5424
Office: 228.357.5888
YourRedRealtor@Gmail.com
---
Click HERE to see what our agents have to say about NextHome Simplicity.
Click Here – Apply To NextHome Simplicity (New Agent)